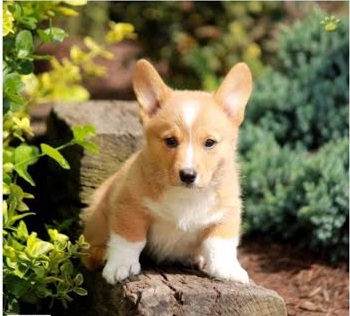 Pembroke Welsh Corgi Puppies for sale in Pennsylvania.
Bucks County, PA close to New York City, New Jersey, Delaware, Philadelphia & Harrisburg PA
AKC registered Pembroke Welsh Corgis. Raised on our small family farm underfoot in our home. We strive for the most super friendly, healthy, corgi puppies with correct conformation and to be wonderful companions! Please contact us if you are interested in a puppy about an upcoming litter. Next litter of puppies expected spring 2018. Both corgi parents on site and are super healthy, exuberant purebred corgis who just love life! Our little Corgi puppies are family raised with kids and exceptionally well socialized with animals and children and get lots of time playing outside. Fed only the highest quality all natural diet recommended by our UPENN VMD nutritionist/ veterinarian. Absolutely no byproducts or synthetic preservatives- full of healthy antioxidants along with varied raw proteins daily for strong development. Pembroke Welsh Corgis are great pets, live happily in apartments to farms. They are less boisterous and quieter than many breeds. Please remember their short little legs require regular-though far less -exerise, than large dogs - a one mile walk for their short little corgi legs is equivalent to approximately 4 miles for a larger dog. Short jogs and walks up to a mile plus generally keep ours happy along with lots of outdoor free time in a fenced yard. Brave, alert, intelligent and self confidant, Welsh Pembroke Corgis are known for their affectionate, fun loving nature and are devoted little dogs with huge hearts. Our corgi puppies are well socialized, handled daily with much love and desensitized to virtually everything in our home and outside on our farm from vacuum cleaners, braying donkeys, crowing roosters, lawnmowers, childrens toys etc. Living on a farm , as proven with children, gives them strong immune systems.
Our dogs shine with health, thick soft coats and sparkling eyes that smile the moment they see you while their little tails (whole bottom actually) start wagging to greet you! We absolutely adore our corgis! Please email a bit about yourself and your situation, dog experience and they type of home you would offer a wonderful little corgi puppy.
Email Pembroke Welsh Corgi puppies for sale in PA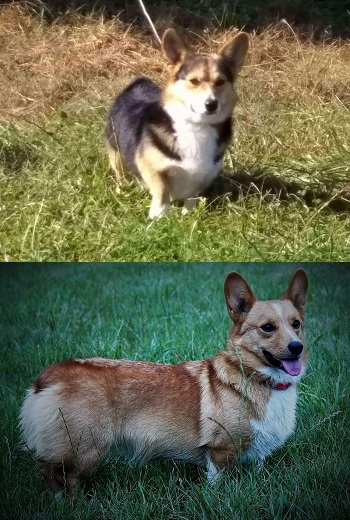 AKC registered Pembroke Welsh Corgis
Regarding the cost of a Corgi puppy - please understand that breeding a carefully planned out litter of dogs is not a cheap or easy undertaking. Our dogs are receive much love, time and top veterinary care. Which is why we can get turned off by emails that start off with "How much is one of your puppies?" or "I am interested in a cheap one". We are not going to charge you $4000 for a puppy (though many show dogs are far more than that) but in the same sense if you can't afford more than $800 for a well-bred corgi puppy from a reputable breeder, I would strongly encourage you to reconsider whether a purebred (or any) puppy is right for you, and have to wonder are you financially capable of caring for a puppy? Are you going to go for the cheapest option when your dog has a health issue or injury? Or buy the cheapest dog food filled with fillers and byproducts? We want our puppies to go to the best, most caring and loving homes and to live as healthy, long and wonderful of a life as possible. The cheapest option does not usually provide that. If you feel you'd be a wonderful home to purchase one of our loveable little Pembroke Welsh corgi puppies that please feel free to email us.

Petting Zoo Critters offered for sale:
White Japanese Silky hens- $25 each
Silky roosters- all colors- $20 each
Pure white Indian Fantail Doves-$25 each- excellent breeders, sit on your shoulder, very tame. Baby bunnies- please contact. Dwarfs and standard. Gentle and hand raised.

Hatch Your Own - Exotic Chicken Eggs! Fertile Chicken Eggs: All colors of Silkie, Sizzle and Frizzle Chickens. $10 a dozen! Teachers/educators: Chicks may be returned back to us after hatching your eggs. All animals have been part of Sleepy Hollow Farm's Traveling Petting Zoo Parties in PA and NJ for several years. All animals are very friendly and healthy and would adore to be your family pets.
Shetland Lambs and Sheep for sale in Bucks County, Pennsylvania
Heritage breed small boned Shetland Sheep and lambs
For sale spring 2018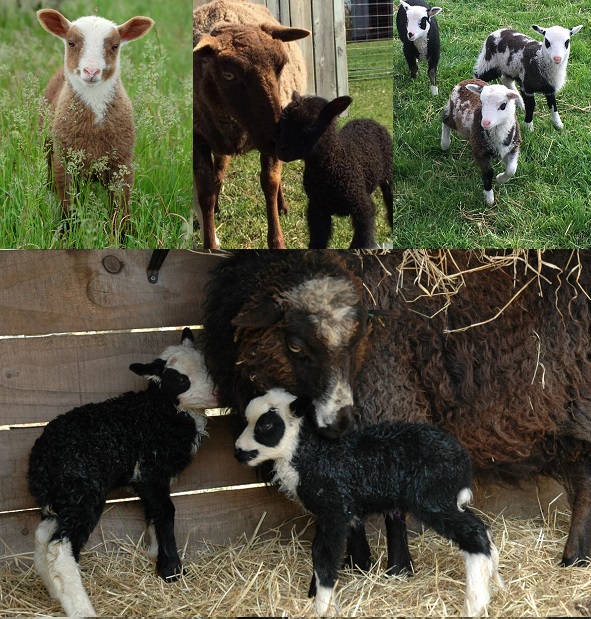 Shetland Sheep and Fleeces for sale in PA
Spring Shetland and Crossbred Lambs and wool available spring 2018- email shfarmgirl@aol.com for more information
Raw Shetland Lamb and Sheep Fleeces Available Spring and Fall shearings.
Many of our Shetlands are naturally polled as our ewes are from a naturally polled sire. Our herd sire "Milkshake" is a beautiful small boned Shetland, petite with a refined face and small horns. He has an exceptionally calm temperament for a Shetland (or any sheep) is quite friendly and was hand raised. Our Shetland ewes are all extremely tame and were bottle raised so lambs will be very calm and sensible.
Milkshake's grandsire was Fleece Champion of the UK two years in a row and many of his relatives have been sold in the 4 figures for their incredible fleeces and heritage. We are extremely fortunate to be able to offer his bloodlines in our flock. Spring lambs expected in May/June of 2018 and we will be offering a few for sale. If you would like to bottle raise your baby lamb please contact us to place a deposit to be on the list before birth and we will contact you once they are born so you can start as early as you'd like. Shetland lamb fleeces are soft as down and they should all have a lovely quality of wool. Baby boys are $250. Baby girls may be offered depending how many are born. We also may have a few wethers that are 1-2 years old that were bottle raised and very sweet, wonderful fiber and extremely tame pets. All of our sheep are naturally raised as organically as possible, on our own pastures that are rotated regularly to provide the best grazing management and in winter have access to high quality locally grown hay and grains.
Handspinners- We sell raw fleeces when our sheep are sheared- generally in April and also in late August- $40 per fleece. This is NOT by the pound- you get the WHOLE fleece! We discard any seriously dirty parts and bag the rest. These are raw fleeces, beautiful wool, since they are raw off the sheep they will have some hay seeds and a few tags. Most sheep farms sell fleeces $20 to $25+ per pound- you'll get far more buying by the fleece raw as we sell it and doing a the little enjoyable carding and washing yourself. Orders must be placed to hold wool fleeces. If we do not have orders they go to the Wool Pull in Montgomery County.
Shetland Sheep are an ancient breed, which has survived for centures on in extreme conditions on the Shetland Islands, small, hardy heritage breed that is thrifty, tend to be easy lambers, very adaptable and long-lived. They retain many of their primitive survival instincts so are easier to care for than many of the larger production breeds. The Shetland breed has survived for centuries in difficult weather conditions on poor quality land/diet, and thrive in homes. Shetlands are easier to care for than many breeds and retain many of their primitive survival instincts, they are quite hardy,surviving in extreme conditions and poor diets in their natural habitat. They and come in two types- Large bone and small bone. Our sheep are small boned, rather petite like their native ancestors and very easy to handle with a fine quality wool and high quality meat. Shetland ewes are naturally polled and weigh 75-100lbs, rams weigh 90 to 125lbs and tend to have 2 horns- though there are some lines that are naturally polled. They have short tails that do not require docking. Their wool is fine, less likely to pill and durable. A great range of colors adds to it's value, particularly for hand spinners. Fleece colors are many and include eleven main colors which are recognised by the breed association (most including many different shades): light grey, grey, white, emsket (dusky bluish-grey), musket (light greyish-brown), shaela (dark steely-grey), black, fawn, moorit (reddish brown), mioget (honey-toned, yellowish-brown), and dark brown. Shetland wool is so fine it is used for traditional wedding shawls that can be pulled through the bride's ring, though it is also very strong and many tweeds are made using it. Shetlands were imported from Canada in the 1980's and into the U.S. later in the decade. Shetland Sheep wool is valuable particularly to hand-spinners. Considered endangered only a short time ago, this heritage breed, perfect for small flocks and homesteaders due to their small size (in the small boned lines we have). Along with their gentle and sweet nature, hardiness and very fine wool has been making a comeback. Thrifty, easy lambers (on good pasture often twins), adaptable and long-lived, the Shetland breed has survived for centuries in difficult conditions.